PADI OPEN WATER SCUBA DIVE COURSE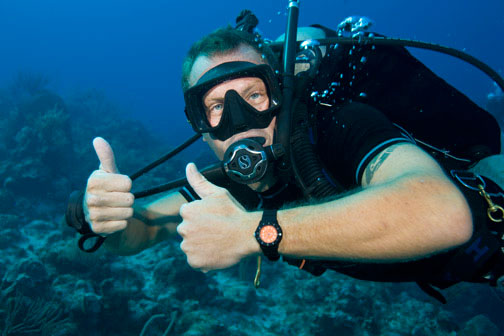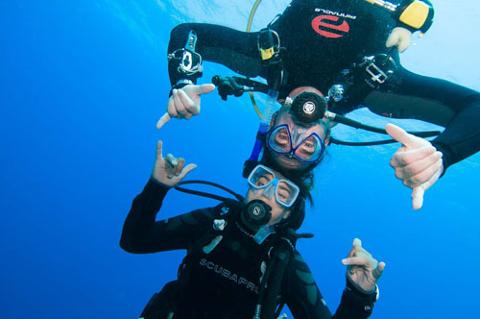 Kesto: 2 Päivät (noin)
Paikka: Exmouth, WA
Tuotekoodi: OpenWaterCourse
Learn to Dive with us here at Exmouth Dive Centre with our 3 day PADI Open Water Course and obtain a qualification that allows you to dive anywhere in the world!
Prior to this 3 day course students complete online Padi dive theory, via a Padi email Link. During the three day course we will test your pre-learnt theory, train in the pool on the first day & then 2 days of dives to complete four open water ocean dives - all of the ocean dives will be usually from one of our dive vessels. This means that not only will you gain the skills that you need to dive safely and enjoyably, but you will get to visit some spectacular dive sites and see amazing sea creatures from your very first ocean training dive! We provide lots of individual attention so that by the time you are ready for the ocean dives you will be able to concentrate on enjoying yourself while you revise the skills you learned in the classroom and in the pool...our instructors are extremely friendly, knowledgeable and fun!!!
Before booking, read through the Medical Questionnairre via this Link
https://www.exmouthdiving.com.au/medical-questionnaire
A PADI Link will be sent to you for all of your online homework Theory.
Inclusions;
- High quality SCUBA equipment
- PADI learning materials including manual, log book and a PADI Recreational Dive Planner
- Four boat dives
- Fun and interesting Dive Instructors

Referrals are only available to those who have completed all theory & all pool sessions & need just ocean dives. ( You must also bring your PIC)

Please note that there is about 5-8 hours of study including knowledge reviews to complete and a DVD to watch prior to starting your course.There are two options: first option is to receive an online version of the open water course manual via email and a link to watch the required videos online. You will do your knowledge reviews online and required to present these on the morning of your course, the Final exam can be done on-line too, or later in the classroom. This option is at no extra charge.
Second option, If you arrive in Exmouth a few days prior to your start date you will have time to collect a real book, watch the DVD and do your homework. If not we can post the book to your home address in Australia. This usually costs about $18 -$25 and we can just add this to your outstanding balance if you need your book before you arrive in Exmouth.
The alternative to doing your homework with the PADI Open water manual real book or on-line book is to complete via e-learning which you can sign up through PADI and costs an additional amount on top of the course cost, but if you register our store number 8165 as the store where you will be completing the course with you will receive a partial credit towards your e-learning course. You do all the theory,
knowledge reviews and final exam online, it is more interactive & streamlined, so you don't need to spend as much time in the classroom and you save you valuable holiday time for more exciting adventures.
We need a minimum of two people to run our Open Water Courses (some extra Fees may apply) so please contact us at the store on 9949 1201 if you are travelling by yourself. We may be able to line up another person to do the course with you or for an additional fee we can run a 1 to 1 course.

Before booking, read through the Medical Questionnairre via this Link https://www.exmouthdiving.com.au/medical-questionnaire/ Please contact us so we can discuss the PADI medical questions with you. If you answer yes to any of the questions you must see a Doctor for a diving medical certificate done to Australian Standard 4005.1 stating that you are fit to dive prior to starting your course for your own safety. There is a medical centre right in the heart of Perth city - across from the bus port. Traveler's Medical Centre, 1 Mill St. Phone 08 9321 1977. Just ring and make an appointment. Medicals are not currently reliably available in Exmouth so you must get your medical completed to the correct standard before you arrive. Refunds are not available if you are unable to obtain a medical.
A referral is only available to those who have completed all theory & all pool sessions from a previous course, prior to coming to Exmouth & require just ocean dives( You must also bring your certifying PIC).

Please make sure you give yourself a bit of flexibility during your visit! While we love mother nature, sometimes the weather doesn't go to plan and we need an extra day to finish off your course. :)
We reserve the right to alter or cancel specific dives/tours/courses without notice due to weather, sea conditions, minimum numbers or other factors. We always recommend that you travel with flexibility in your itinerary and with travel insurance – please contact your local travel agent for details on the best travel insurance for your travel needs. See our 'Booking Terms & Conditions'