PADI DIVE MASTER COURSE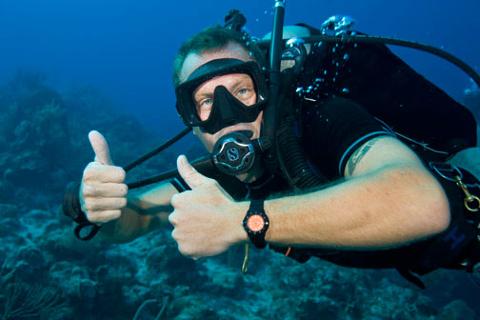 Duration: 1 Minutes (approx.)
Location: Exmouth, WA
Product code: DivemasterCourse
The PADI Divemaster course teaches you to be a leader and take charge of dive activities. Through knowledge development sessions, waterskills exercises and workshops, and hands-on practical assessment, you develop the skills to organize and direct a variety of scuba diving activities. Topics and practical workshops include:
The role and characteristics of the PADI Divemaster
Supervising dive activities and assisting with student divers
Diver safety and risk management
Divemaster conducted programs and specialized skills
Business of diving and your career
Awareness of the dive environment
Dive setup and management
Mapping an open water site
Conducting dive briefings
Organizing a search and recovery project and a deep dive
Conducting a scuba review and skin diver course
Assisting with Discover Scuba Diving and leading Discover Local Diving programs
To start your PADI Dive Master training you need to hold a Rescue Diver certification and a current Emergency First Responder or equivalent rating
including CPR training. If you wish to do them with us, contact us for the latest pricing for a PADI Rescue Diver andr Emergency First Responder. If you do them together the EFR course is reduced. If you are doing your Dive Master training with us, we can fit in the Rescue and Emergency First Responder courses with your Dive Master training schedule. You need at least 40 logged dives to begin and will need 60 logged dives including at least one night dive to complete your course. Please note: a night dive is not included in your Dive Master Course price.

If you don't have 40 logged dives yet we can arrange for you to complete your dives at an extra cost, on our tours for a reduced rate when you book the dives together with the divemaster training course.

You will also need a diving medical certificate done to Australian Standard 4005.1 stating that you are fit to dive prior prior to starting the course. You are required to get the medical done before your arrival as medicals for diving are not available in Exmouth. We cannot refund course fees if you fail the medical so it's best to do this before you pay for your training.

We require a minimum of 7-8 weeks to complete your Dive Master training thoroughly to a high standard, when you devote all your time to the course.
You can also have the option to spread it out over a longer period if you need to work and train at the same time.
During your time training, youi will learn many aspects of the diving centre's operations including:
logistics, dealing with certified divers, dealing with students, equipment maintenance, selling techniques, boat handling/rope skills, diving theory, dive
planning, condition evaluation, tank filling and much more.

Our course includes your Dive Master Manual, Encyclopedia and Workbook; and a Dive Master in Training crew shirt for you to keep. You can use any of our hire gear that you do not have (if it is available), but you need your own PADI RDP, log book, timing device, dive knife/tool, torch, signaling device, safety sausage, underwater slates and mask/snorkel. You will receive special rates on all equipment purchased with us. You can dive virtually as much as you like during your course.

Our Dive Master Trainees also receive special rates on our Assistant Instructor Course and Instructor Development Courses should you wish to continue your professional dive training. Our IDC course fee includes the IDC Candidate workbook, all pool, classroom and ocean fees/expenses and all air fills.

Exmouth Dive & Whalesharks Ningaloo's Dive Master and Instructor Training provides small groups and lots of individual attention and support. The pristine Ningaloo Reef is an awesome place to further your diving education and to learn to be a professional in this diverse industry – our water is warm, the marine life abundant year round and we are dedicated to training professionals who will find it easy to secure positions as dive masters and instructors. We also provide the opportunity for each of our candidates to gain experience with courses, diving and general dive centre operations. There is also the opportunity to train on the Whaleshark tour vessel- which means swimming with whale sharks! This is invaluable experience for you and gives you a good foundation for your diving career.