Ningaloo Whale Shark Swim on a Powerboat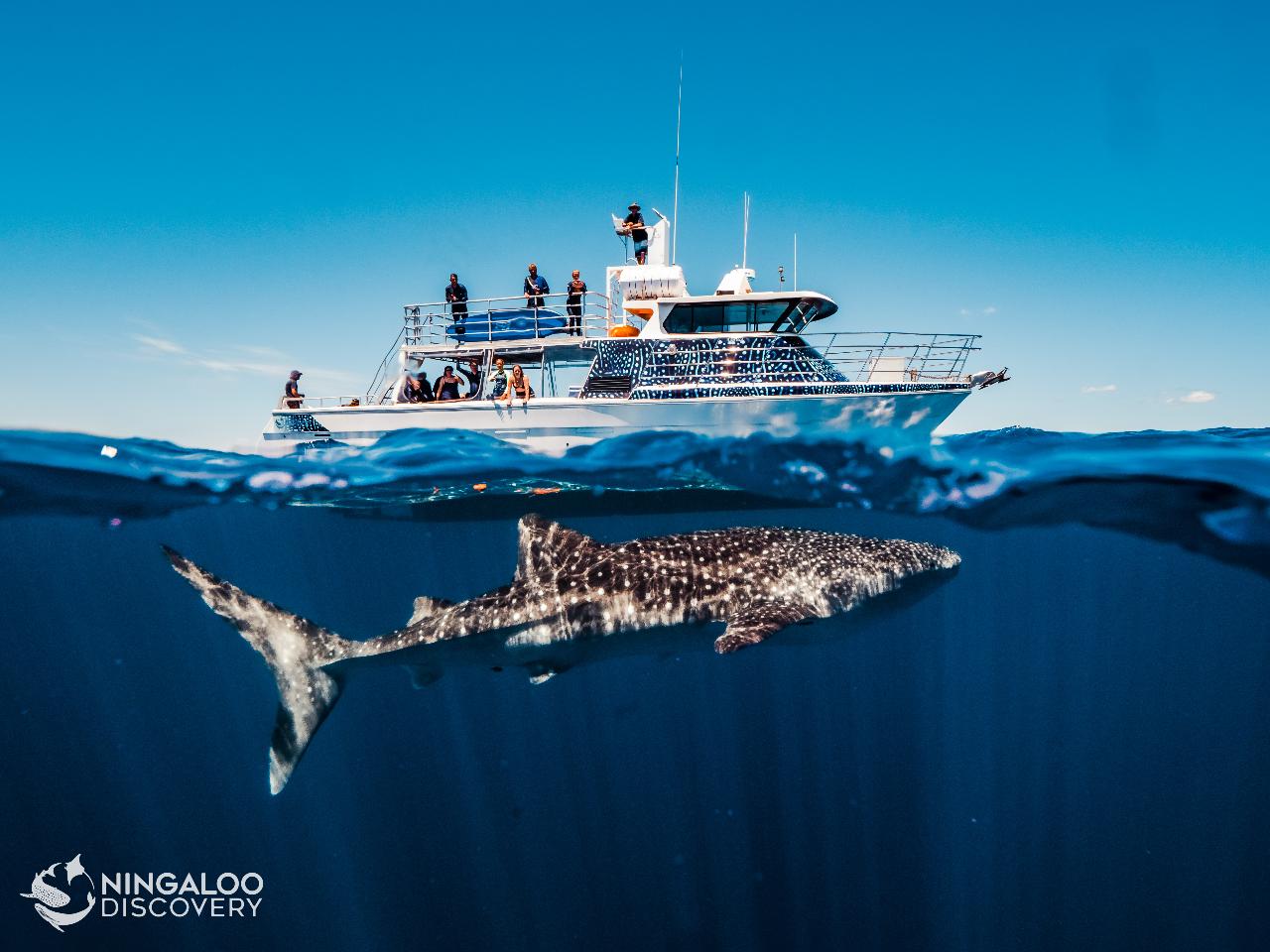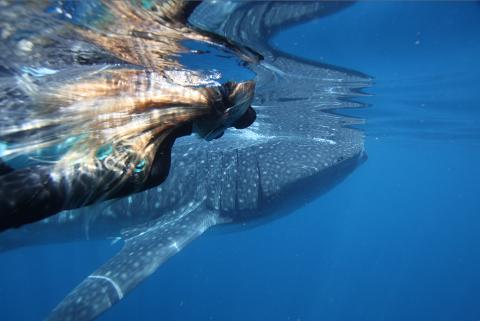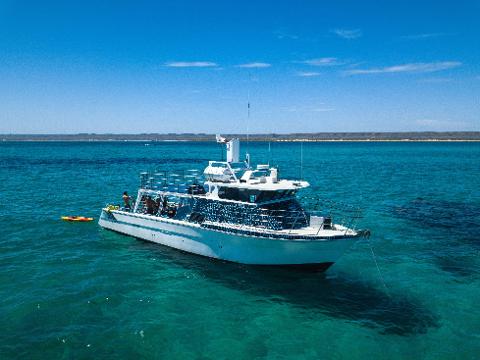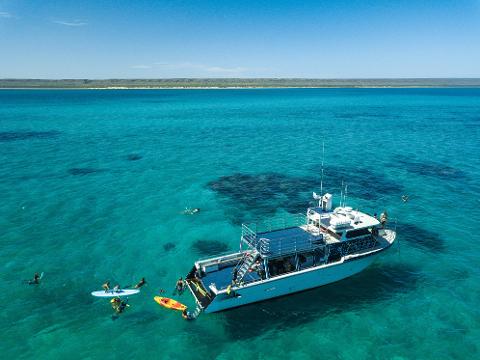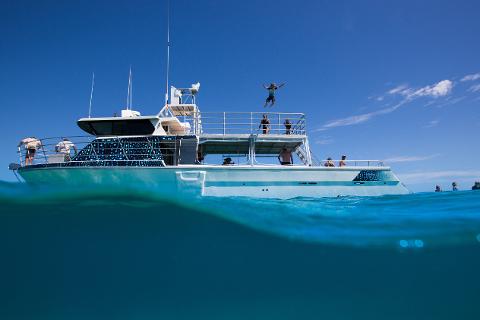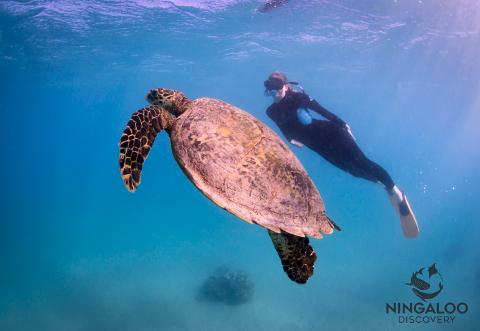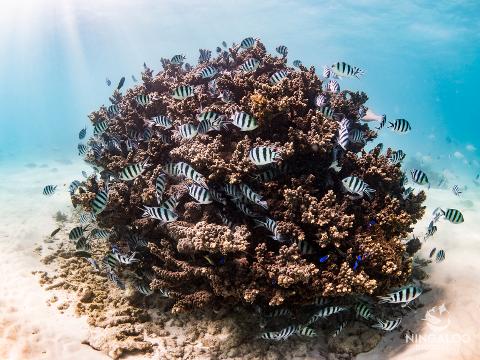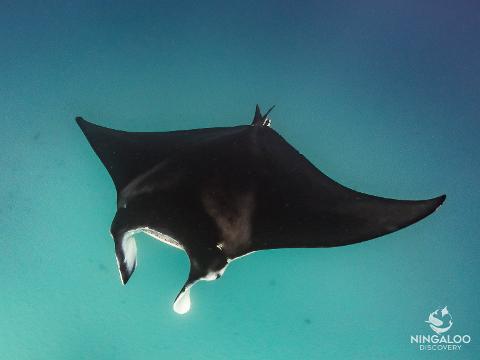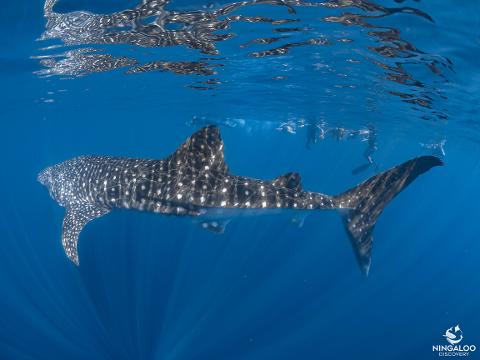 Dauer: 9 Stunden (ca.)
Ort: Exmouth, WA
Produkt-Code: WS PB
Whale Shark Swim on a Powerboat - March, April, May, June and July!
Ningaloo Discovery is an award winning, eco certified operator licensed to conduct Whale Shark Swim Tours on the Beautiful Ningaloo Reef, Exmouth Western Australia!

Swimming with a whale shark is un unforgettable, once in a lifetime experience that people come from all over the world to do. It is something on everyone's bucket list! Whale sharks are the largest fish in the ocean, growing up to a possible 18 m long! Ningaloo Reef plays host to these amazing animals every year from March until August, it is the only place in the world where they congregate so predictably in such large numbers.

Whale sharks are completely harmless to humans as they filter feed on plankton and other microscopic organisms. Here on Ningaloo Reef, we are lucky to be able to enter the water with them on a daily basis and swim alongside as they cruise about the reef. Swimming with a whale shark in their natural environment is an extraordinary experience, one not to be taken for granted, and as such is conducted with the utmost respect to the whale sharks. Ningaloo Discovery will do absolutely everything possible to have guests swimming in the water with a whale shark! Whale Shark Swim Tours from Exmouth are rated as the worlds best practice. We operate under extremely well managed guidelines to ensure we can continue to enjoy being in the water with minimal impact for years to come.

Ningaloo Discovery's team are extremely experienced and passionate about interacting with these animals in a wonderful, respectful way and we want you to join us! Ningaloo Discovery offers guests a whale shark experience on-board a large, custom fitted, shaded and spacious 56ft powerboat, INVESTIGATOR. She has been extensively refurbished to offer two huge areas of seating and viewing for guests and easy, direct access to and from the water. Her upper deck sits almost 5 m above the water and boasts 360 degree viewing for spotting all the amazing wildlife we may encounter, whilst her lower deck is well protected from the elements should it get a bit windy and is extremely spacious and comfortable. There is also a lounged area in the cockpit offering sheltered wildlife viewing options. With the use of our very own spotter plane, our pilot will direct us to whale sharks and any other marine life spotted from above.
Your small group of 10 will enter the waters of Ningaloo Reef and swim with a whale shark. You will be in awe as you immerse yourself in this truly extraordinary experience.

Guests who book on as "observers" are welcome to participate in all itinerary activities except for entering the water with a whale shark.
You will experience warm friendly staff, fun activities, delicious food and memories to last a lifetime from the minute we pick you up to the moment we say goodbye. Our priority is making your day the best we possibly can!

So what are you waiting for? Book now and get swimming with a Whale Shark ticked off your bucket list!


Our amazing itinerary for the day:
- Starting from 7:45am, you will be picked up from your accommodation in our private bus. Listen in or chill out during the drive down the coast as we'll be telling you all about what you're about to experience before being taken out to the INVESTIGATOR whale shark vessel where you will be greeted by our friendly crew and fitted with masks, snorkels, fins and wetsuits. We'll take exceptional care of you and ensure everybody is 100% at ease, feeling confident and excited!
- Moments later immerse yourself in the crystal clear waters of Ningaloo Reef at one of our beautiful snorkel spots in the sheltered lagoon. Here you will see an array of corals and colourful fish, sometimes even turtles and rays! Take this time to ask questions, get snorkelling tips, make sure your gear fits and practice getting on and off the boat before your Whale Shark swim. Our guides will be right there with you in the water to steer you in the right direction, and to pay special attention to any modest swimmers. Feel free to grab one of our floating noodles should you feel like the extra bit of flotation.
- Now you can enjoy morning tea as our plane gets searching for Whale Sharks. Our crew will organise you into small intimate groups and as soon as a whale shark is spotted, swimming guests will be directed to put their snorkel gear on and get ready for one of the greatest moments of your life! You are about to swim with the biggest fish in the world, the whale shark!
- Your group and your guide drop in and get up close and personal to the worlds biggest fish, this is your chance to experience wonder and marvel at the sheer size, grace and elegance of the whale shark! Most of these sharks are between 4 and 12 metres long but have been known to grow as large as 18 metres!
- This may not be your only whale shark swim, the pilot has been busy searching for another gentle giant to swim with, and on their call get ready to do it all again… and again!
- After we have spent as much time as possible with the whale sharks you will enjoy a delicious buffet lunch as we cruise the reef in search of any other wildlife. Manta rays, dolphins, humpback whales, turtles, dugongs and anything else that may be around.
- Now we head back inside the lagoon where the water is turquoise blue and anchor up at a new special spot on the reef for another snorkel. Weather and time permitting try your hand at one of our stand up paddle boards or a glass bottom kayak during the afternoon snorkel for a different view of the reef.
- Relax with some refreshing afternoon tea and a glass of sparkling wine on our way back to shore before the crew return you safe and sound and full of smiles back to your accommodation.
- The experience lives on as we will provide you with access to all the photos of the day taken by our professional photographer free of charge!
Tour Includes:
Whale Shark Swim on a Powerboat will take you onboard Investigator, a purpose built charter vessel.
Full day tour, 7:45am - 4pm approximately
Complimentary bus transfers from your accommodation in Exmouth to the boat ramp and return. Flying in to Learmonth on the early flight? No problem, for an extra fee we can pick you up form the airport and take you directly to the boat. You could be swimming with a whale shark the same day!
Experienced, professional award winning crew on board and supporting you in the water as much as you need. Interesting informative spiels about the area and the marine life will keep you entertained too.
Spotter aircraft to ensure best possible opportunity of sighting and swimming with whale sharks
Maximum of 10 swimmers in each group
In-water experiences with a whale shark
Snorkelling on the Ningaloo Reef
Quality snorkel equipment including mask, snorkel, and fins of all sizes
Flotation aids and life jackets available on board if required
Marine specialists onboard to answer all your questions and guide you
Stand up paddle boards and kayaks for use in afternoon snorkel (weather and time permitting)
Yummy morning tea, buffet lunch and afternoon tea provided, we can cater to dietary needs
Sunscreen, water, dry area for your belongings and shade on board
Celebratory glass of sparkling wine
Whale shark swimmer certificate which also allows you discounts on further tours!
All government fees and charges included in the price (2% transaction fee applies to credit card payments)
Complimentary professional photography package of the day. Thats right, ALL THE PHOTOS FOR FREE!
What should I bring?
Your excitement and positivity!
Warm clothes for after snorkelling
Sea sickness medication if you feel like you may need it
See what our guests say about us!
Don't take our word for it! Check out our
Tripadvisor Page
and see what other travellers have said. We pride ourselves on all our amazing reviews and would love you to take a look for yourself!